Artistic Profile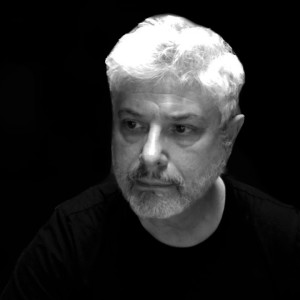 Stewart Cherlin was born at Camp Kilmer, New Jersey.
His father Jacob, a Jewish immigrate from Vilna, Poland, enlisted in the United States Army serving as a band musician and later as a Signal Corps photographer. Stewart's mother, Pauline was born in New York's Lower East Side. She worked as a seamstress to support her family. Both parent's had strong Jewish identifies. Their influence permeates Stewart's artistic pursuits.
As a teen Stewart studied music and art. During the 1960-1970s he studied classical guitar Rodrigo Riera and Julio Prol, both students of Andes Segovia, and theorbo lute with the late Patrick O'Brien, a performer and researcher of early music.
Stewart attended Rutgers University graduating Phi Beta Kappa with a Bachelor of Arts and highest honors. His studies focused on Music, European History and Hebraic Studies. This liberal arts background continues to influence his artwork.
Stewart taught and performed classic guitar during this the 1970-1980s. At the same time he privately studied oil painting, design and drawing with the late Charles Nevad. Stewart exhibited his early paintings and drawings at art shows and fairs in the New Jersey area.
Stewart met his wife Marilyn, a guitar student of his in 1973. Stewart and Marilyn married in 1975 and have two children, Adam and Daniel. The family moved to the Chicago area in 1991. All members of the Cherlin family are involved in music, art and creative endeavors.
Stewart's creative life during the 1990s followed several new paths. Stewart has published music reviews and articles on Jewish and classical music. His articles have been featured in Jewish print publications and online. His reviews span the wide variety of Jewish music including Klezmer, liturgical, cantorial, Yiddish folk, and the classical performers.
Photography, Stewart's primary focus since the late 1990s is a logical progression in his artistic pursuits.  His photographic work has been exhibited at Jewish Art fairs, North Eastern Illinois University, Chicago area restaurants and in galleries. In 2010, he was the featured artist at a one man show titled Capturing Holiness at Temple Sholom, Chicago. The exhibit included some forty recent pieces on Hebraic themes. in 2012, Stewart was selected as a featured artists for the International Arts Exhibit by the Decatur Area Arts Council. The exhibits theme was on Jewish art and culture. Many of Stewart's photographs are currently on display at Spertus Institute where he is the Director of IT.
Cherlin's photography is a unique combination of nature, traditional elements and text. He creates a unique world of visual commentary through the media of digital photography. Many of his recent works are based on Torah text and music themes. He is interested in expressing the spiritual world of text through the photographic medium. He uses the computer to create and enhance his artwork.
The computer is Cherlin's darkroom and studio. He employs it as a creative tool to compose his artwork integrating layers upon layers of images to build each work, often creating several variations as the piece in progress.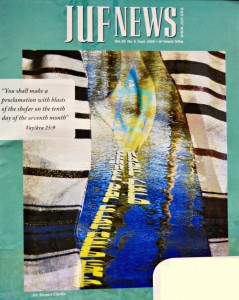 Cherlin's artwork was featured on the cover of JUFNews (The Jewish Federation of Chicago's Monthly Magazine).